This image is interactive. To know more about each item just click on it!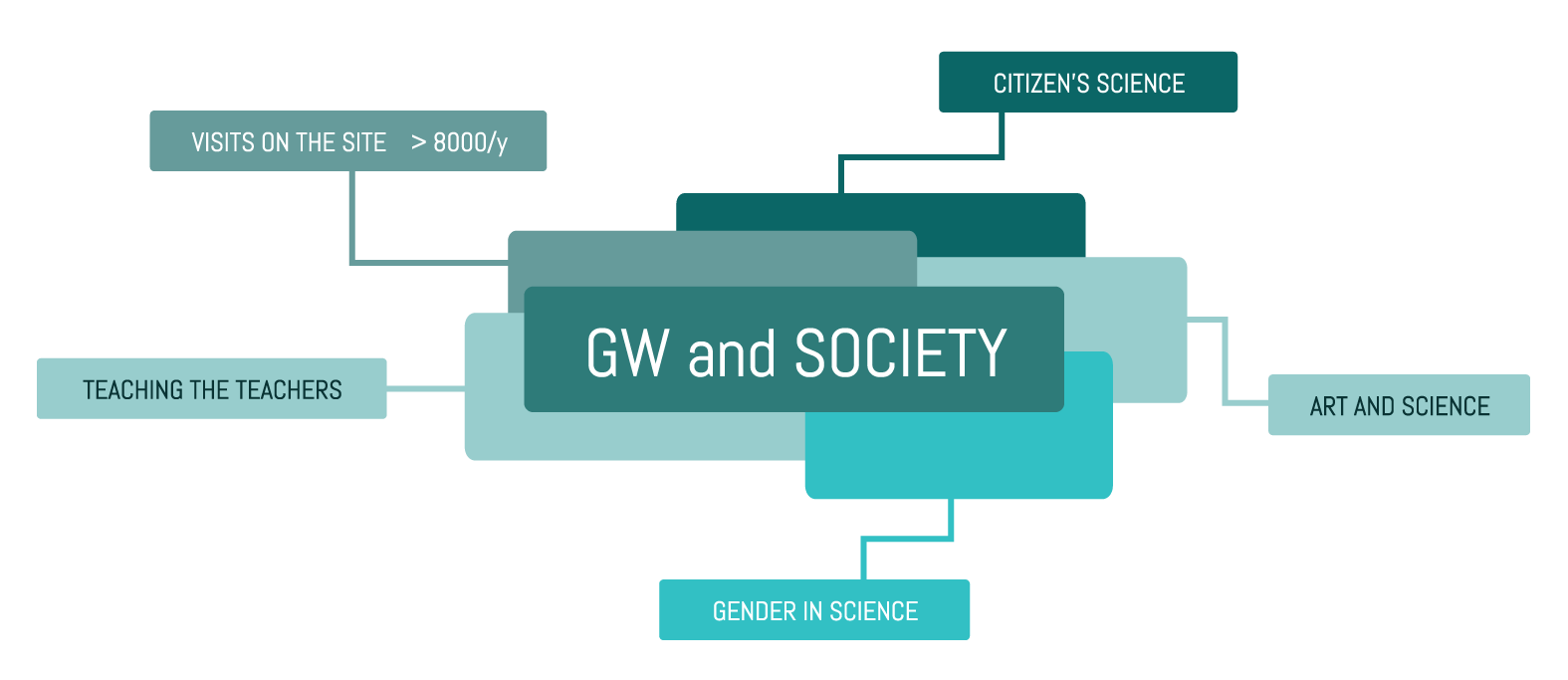 TEACHING THE TEACHER
EU PROGRAM FRONTIERS
Demonstrators
Contact and participation of national representative of difital teaching (I.M.)
VISITS ON THE SITE > 8000/Y
Most activities funded by EU programs
CITIZEN'S SCIENCE
REINFORCE
Senior/Disabled
Multisensorial studies with Wanda Diaz-Merced
ART AND SCIENCE
"IL RITMO DELLO SPAZIO"
2019 - Museo della Grafica (Pisa)
"ON AIR"
2018 - Palais de Tokyo (Paris)
EGO supports an extended program of communication and outreach, training, citizen's science and support of Art and Science events.
A program of visits by Universities, schools and the public (over 8000 visits per year), researchers night events with emphasis on gender and disables citizens issues, an EU funded program (Frontiers) on communicating science to school teachers and students, computing training weeks and is leading, an EU funded program (REINFORCE) on Citizen's Science.
TH EU funded program of collaboration with High School Teachers Frontiers, brings in contact the High school teachers in Tuscany and elsewhere with the science of Gravitational waves, supports the organisation of workshops @EGO with these teachers and the conception of digital demonstrators of GW science: e.g. EGO Control room VIRGO Virtual Visits. (site)
In particular, the REINFORCE program through its workpackage "Increasing the senses, increasing inclusion" aims to extend the reach of the project to citizens with sense-disabilities (especially visually-impaired), address senior citizens and explore the potential and the barriers for their engagement in citizen science. In this context we develop a program of sonification of astronomical and environmental data permitting to visually impaired citizens to participate to the adventure of science, but also in return augment the discovery potential of gravitational wave research by the inclusion of new sensorial data (acoustic). (site)
Last but not least EGO participated in high visibility Art and Science exhibitions:
Exhibition "On Air" by Tomas Saraceno at the "Palais de Tokyo" in Paris (October-December 2018), the most visited exhibition of the Palais de Tokyo ever
Exhibition "The rhythm of space" at the Museo della Grafica in Pisa (October-December 2019) bringing Scientists and Artists together to an exhibition that was praised by regional and national press and key experts in Science and Art, an exhibition that will tour in many European capitals (Paris, Rome, Athens) in the coming years.